U Type Syphon, 270 Degree – suitable for Vertical pipe mounting application
We are India's prominent manufacturer, supplier and exporter of the syphon worldwide, introducing one of the immensely applauded syphons named U type Syphon, 270 degree. This U type Syphon is widely acknowledged by the end users for the impeccable performance it gives all through life and rest assured of the protection of the instruments fitted with, is an outcome of our stringent quality inspection as of procurement of the raw material to final dispatch and repetitive test against BIS 16282 quality standards to ensure its highest quality.
This U type Syphon, 270 degree is acknowledged in the vertical pipe mounting application for outstandingly prevent coming high temperature fluid or vapour and secure diversified instruments like pressure instruments, gauges, switches and transmitters from a damage.
How does a U Type Syphon, 270 Degree work?
The U type Syphon installed between instrument and process filled with a liquid. The pressure medium forms a condensate and is gathered in the U shape of the syphon that prevents the high temperature process fluid or vapours from coming in direct contact with the instruments.
Note: it is recommended to fill pigtail syphon with water or any suitable separating liquid before installation.
Alternatives in U type Syphon, 270 Degree:
We as a manufacturer of the U type Syphon 270 degree, provides a wide range of the alternatives for all types of requirements of NPT, BSP, Butt Weld, flanges, Socket Weld or Compression outlets.
The provided pigtail syphon can be selected in terms of pipe schedule or pressure rating
Based on the pipe schedule available options are: SCH 40, SCH 80, SCH 160, SCH XXS
Based on the pipe pressure rating available options are: 3000 psi, 6000 psi and 10000 psi
Common sizes are 3/8″ , 1/2″ ,3/4″ and 1″
Available Customizations:
Different Diameter of Coil
Different Length of Coil
Different End Connections
Option of Multiple Coils in same Syphon
Material options:
Stainless Steel
Brass, Steel
Monel, Hastelloy C
Incoloy, Inconel 600.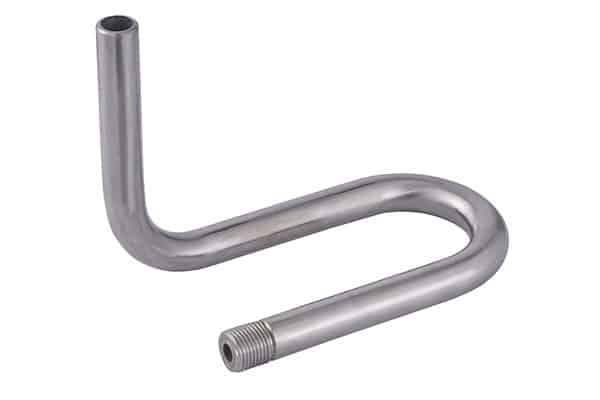 U type Syphon, 270 Degree Applications
To protect pressure measuring instruments from excessive heating
To protect pressure measuring instruments from vibration
As a cooling element for gases, fluids and vapours in pressure instrument
For direct mounting to the pressure connection of the pressure measuring instrument
The steam syphon tube is used for steam boiler Applications
 Note:
The comprehensive syphon range offered by us is 100% pressure hydrostactically tested and conforms to DIN 16282 industrial standards
Customized range of the pressure gauge syphon is available on request
* Contact Sales for pricing and availability.